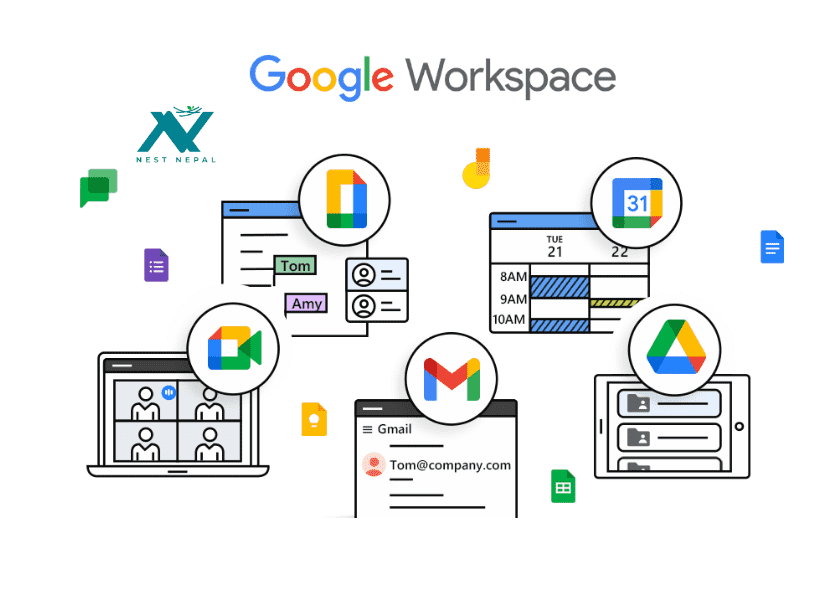 Google Workspace (previously known as G Suite) is a cloud-based productivity and collaboration suite designed to enhance the way people work in Nepal. Google Workspace provides a range of tools such as Gmail, Google Drive, Google Docs, Google Sheets, Google Slides, Google Meet, Google Forms, and more to help individuals and teams streamline their work and boost productivity.
With Google Workspace, teams in Nepal can easily communicate and collaborate in real-time, share and edit files, schedule meetings and events, and manage projects seamlessly. Additionally, Google Workspace provides a high level of security and data protection, ensuring that sensitive information is kept safe and secure.
An introduction to Google Workspace vs G Suite
It's been four years since Google's Apps for Work became G Suite. Since then, the platform has risen in popularity, and today more than six million businesses [1] rely on its online productivity and collaboration tools.
However, as of October 2020, the G Suite brand is no more as Google has officially announced that G Suit has become google workspace: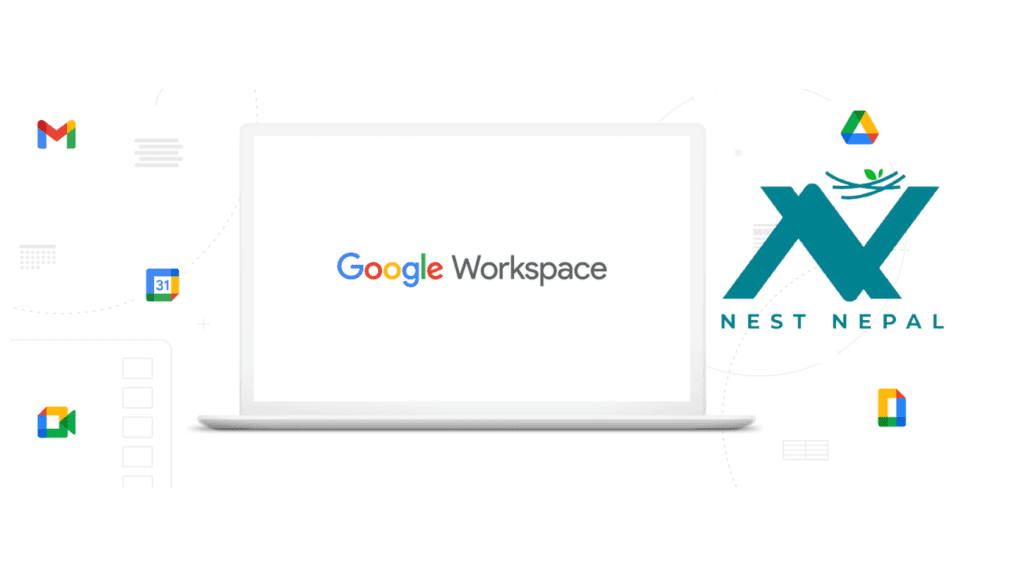 This isn't just a rebranding, as Google Workspace seems set to blur the lines between Google's individual applications. Instead of clearly-defined Gmail, Google Sheets, Calendar, and Drive, we're starting to see a unified interface.
Providing a more seamless user experience (UX) can boost productivity. According to Demystifying the desktop, an employee typically switches between 35 job-critical applications over 1,100 times a day .
All of those lost seconds add up. Studies suggest that an employee wastes up to 60 minutes every day navigating between apps. This means that your business could be losing 32 days per employee, per year.
By combining multiple apps into a more seamless user interface (UI), solutions such as Google Workspace could potentially save your business a significant amount of time. Workspace also appears to be focusing on remote teamwork and collaboration.
In the current climate, rebranding G Suite as a complete remote working solution makes sense. Both Google and Facebook have informed staff that they won't be returning to the office until July 2021 at the earliest. Meanwhile, Twitter , Square , and Microsoft are all giving their workforces the option to work from home on a permanent basis.
There's even evidence to suggest that 92% of employees now want the option to work from home . This could explain Google's motivation to reinvent its products as a remote working platform.
What Google Workspace means for G Suite
If you have a G Suite subscription, then you should have already received an email from google detailing the impact this change will have on your particular organization. Typically, this seems to involve migrating customers to Google Workspace as quickly as possible.
However, if you're on an annual or fixed term plan, then your G Suite subscription will continue until your renewal date. G Suite Enterprise customers will also be automatically migrated to the new Google Workspace Enterprise plan.
At the time of writing, none of G Suite's applications were being retired. However, the familiar tools are getting colorful new icons: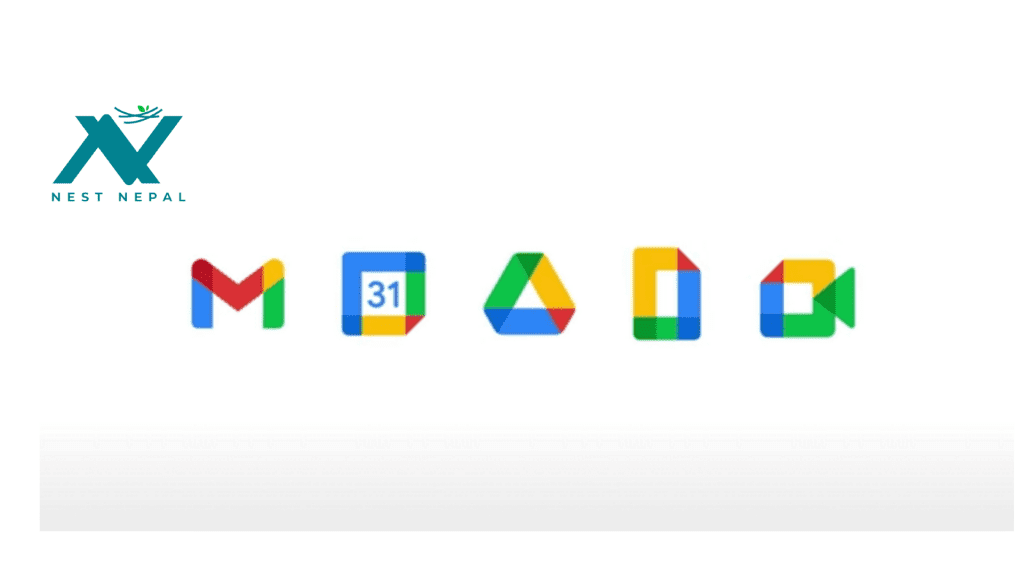 If this change hasn't already appeared across your account, then you should see it shortly.
New features in Google Workspace
Workspace is more than just a rebranding exercise. Google has already announced some new features for the platform.
With Workspace, Google aims to combine multiple communication methods into a single interface. It seems this concept is going to be expanded in the future.
Google Workspace will see Meet, Chat, and Rooms more tightly integrated with its other apps. This is good news for anyone who's constantly switching between email, instant messaging, voice, and video calls.
Other upcoming features include the ability to create documents directly within Chat. Users can then collaborate on these documents inside the Chat room.
According to Google, Workspace users will also be able to preview linked files in Docs, Sheets, and Slides. This makes it possible to collaborate on a document without having to open it in a new tab.
To provide more seamless communication, you can also view contact details inside Workspace documents. Whenever you @ someone in a document, Workspace will launch a smart chip.
This popup will display the user's contact information, plus useful suggestions such as start a video call, or send an email. This includes contacts who are outside your organization.
In July 2020, Google announced its intention to bring Meet picture-in-picture to Gmail and Chat. This enables you to see and hear the people you're collaborating with.
In the coming months, Google has also announced that it's rolling out Meet's picture-in-picture to Workspace's Docs, Sheets, and Slides. This is another useful change for businesses that are using the platform to collaborate remotely.
Which apps are part of Google Workspace?
Most editions of Google Workspace offer the following apps:
Gmail: The world's most popular email service
Google Calendar: A robust calendar offering with a scheduling option
Google Meet: Unlimited group video calls
Google Chat/Spaces: Team collaboration software to manage projects like a pro
Google Drive: A cloud storage solution to share files
Google Docs: A word document software
Google Sheets: Create spreadsheets
Google Slides: Create presentations
Forms: Create forms, surveys, and quizzes
Sites: Create websites
Keep: Store and share your thoughts
Jamboard: A virtual whiteboard
Some apps and services like AppSheet, Apps Script, Voice hardware, Cloud Search, Groups for Business, Domains ,Classroom, and Vault may require additional purchases.
Conclusion
G Suite is now Google Workspace. Google seems set to combine its separate applications into a more unified UI with a renewed focus on remote teamwork.
Workspace also introduces some new features, including the ability to preview linked files in Docs, Sheets, and Slides. It also provides access to a smart chip that contains useful contact information and picture-in-picture mode for multiple apps.