Register a Domain at Nest Nepal

If you're looking to register a domain name in Nepal, there are a few things you need to know. Here's a quick guide on how to get started.
First, you need to choose a registrar. There are many registrars out there, but we recommend choosing one with great support. We personally use and recommend Nest Nepal.
Once you've chosen a registrar, you need to choose your domain name. This is usually the hardest part, but it's important to choose something that's brandable and easy to remember. Once you've settled on a domain name, you can proceed with the registration process.
Before it, let us understand what is a Domain Name?
A domain name is an identification string that defines a realm of administrative autonomy, authority or control within the Internet. Domain names are used in various networking contexts and for application-specific naming and addressing purposes. In general, a domain name identifies a network domain, such as a company's website or a particular website page. In addition, it is a Simple Word Representation for an IP Address like 104.29.30.10. It is hard to remember such kinds of IP Addresses so we make use of Domain Names like: nestnepal.com which makes it easier for us to remember.
Nest Nepal has its own Domain Name Registrar and Registering a Domain Name in Nepal is not a difficult task. All you need to do is follow some simple steps and your Domain will be registered within minutes.
Follow these simple steps to Register your Domain Name in Nepal:
1) Visit the website of Nest Nepal at nestnepal.com
Once you visit the website, you will see a "Domain" tab on the top right corner of the page. Hover on it and Click on Register a Domain Name. you will be redirected to the Domain Registration page where you will be able to carry out Domain Registration in Nepal.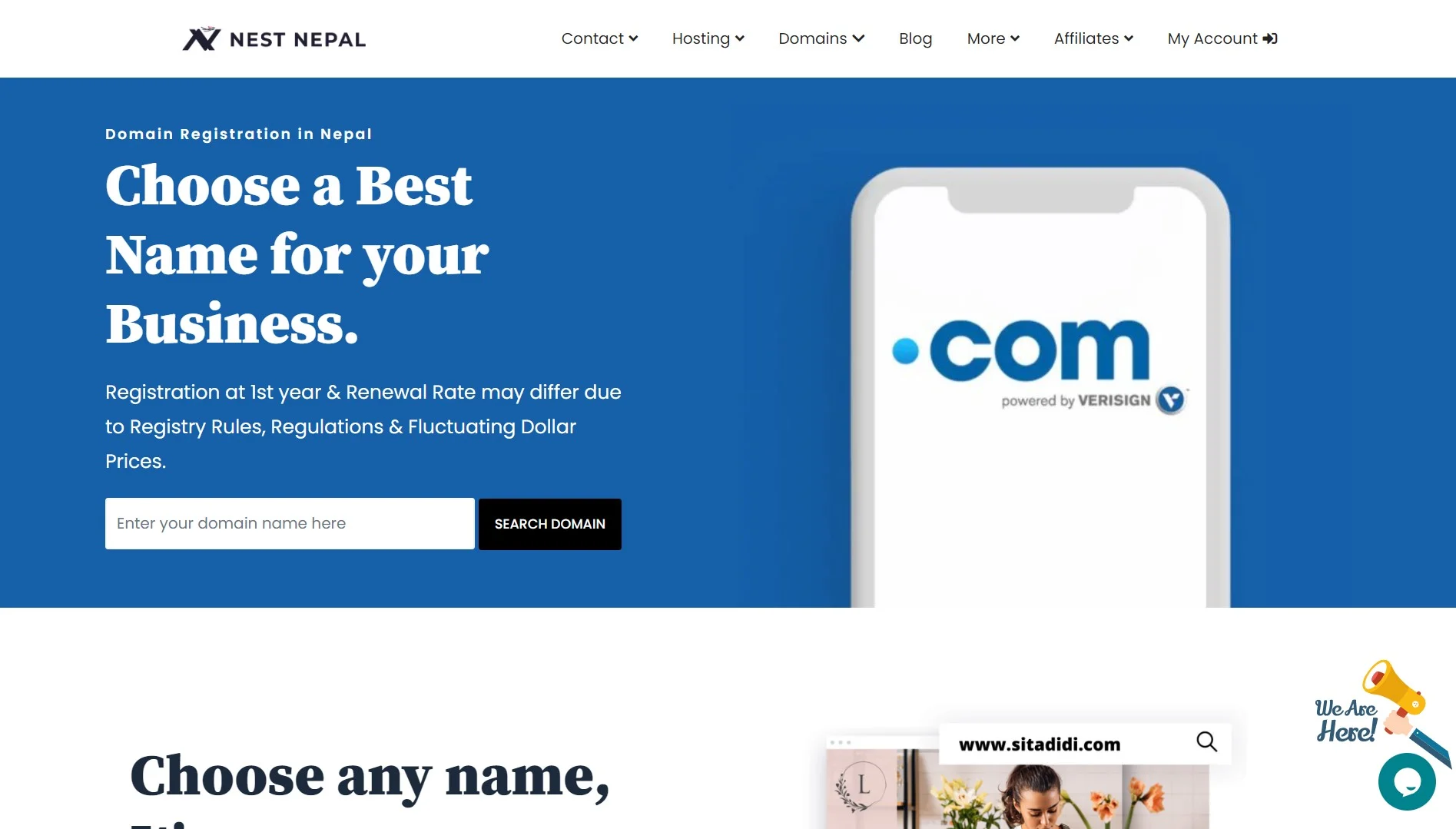 2) Check the Domain Availability
Now, You'd need to find whether your Desired Domain is available or not. Generally, All Generic TLDs can be registered by anyone on the Internet having access to Payment Gateways so you need to make sure that you're the one to catch your Business Name in the First Place.
On the Domain Registration page, you will see a Search Box where you will be able to Search your Domain name. Search your Desired Domain name on the Following Box.
3) Select your Desired Domain Name
After you Proceed with The Domain Search, You will be redirected to client portal where you will be able to select your Domain name. While selecting, Make sure that you are choosing a Correct Spelling as your Domain name cannot be edited after you place an order.
4) Proceed to Register
If your Desired Domain name is available, You can click on "Add to Cart" Button to proceed with Domain Registration in Nepal and follow further instructions. You'll be asked whether you'd like the further add-ons or not. It's upon you to choose whether you need those DNS Management services & ID Protection. If you are hosting your Website through Nest Nepal then you do not compulsorily need those.
Let's understand the use of these two Addons.
DNS Management:

DNS (Domain Name System) is a system that converts human-readable website names into computer-readable numeric IP addresses. For example, when you type in "www.nestnepal.com", your computer will actually look up the address for that site using a DNS server.

Each domain name must have it's own DNS Records, which is automatically managed if you have a Hosting Plan.

ID Protection:

When you register a domain name, your personal contact information (name, address, phone number, email) is made available to anyone who wants to see it. This is called the WHOIS database.

WHOIS protection is a service that keeps your personal contact information private. With WHOIS protection enabled, your personal contact information will be replaced by some dummy information.
5) Add the Nameservers
On the Same Page, You'll be asked with the Nameservers to keep. You can set that default as you can always change it later. If you're also Ordering a Hosting Plan then they will be automatically set in that case.
6) Review and Checkout
Now, Review all the Information and Click on Checkout. On the next page, you'll be asked to Register or Login if you're an existing customer.
After Registering or Logging in, You'll be Redirected to the Payment Page. Make sure that all the Information is Correct before Proceeding to Payment. Sometimes, We also launch some promotional offers so Please do not hesitate to contact us via Live chat to ask for any Promotional Offers if they are going on. Once you have done the Payment, Your Domain should be successful after you get a Confirmation.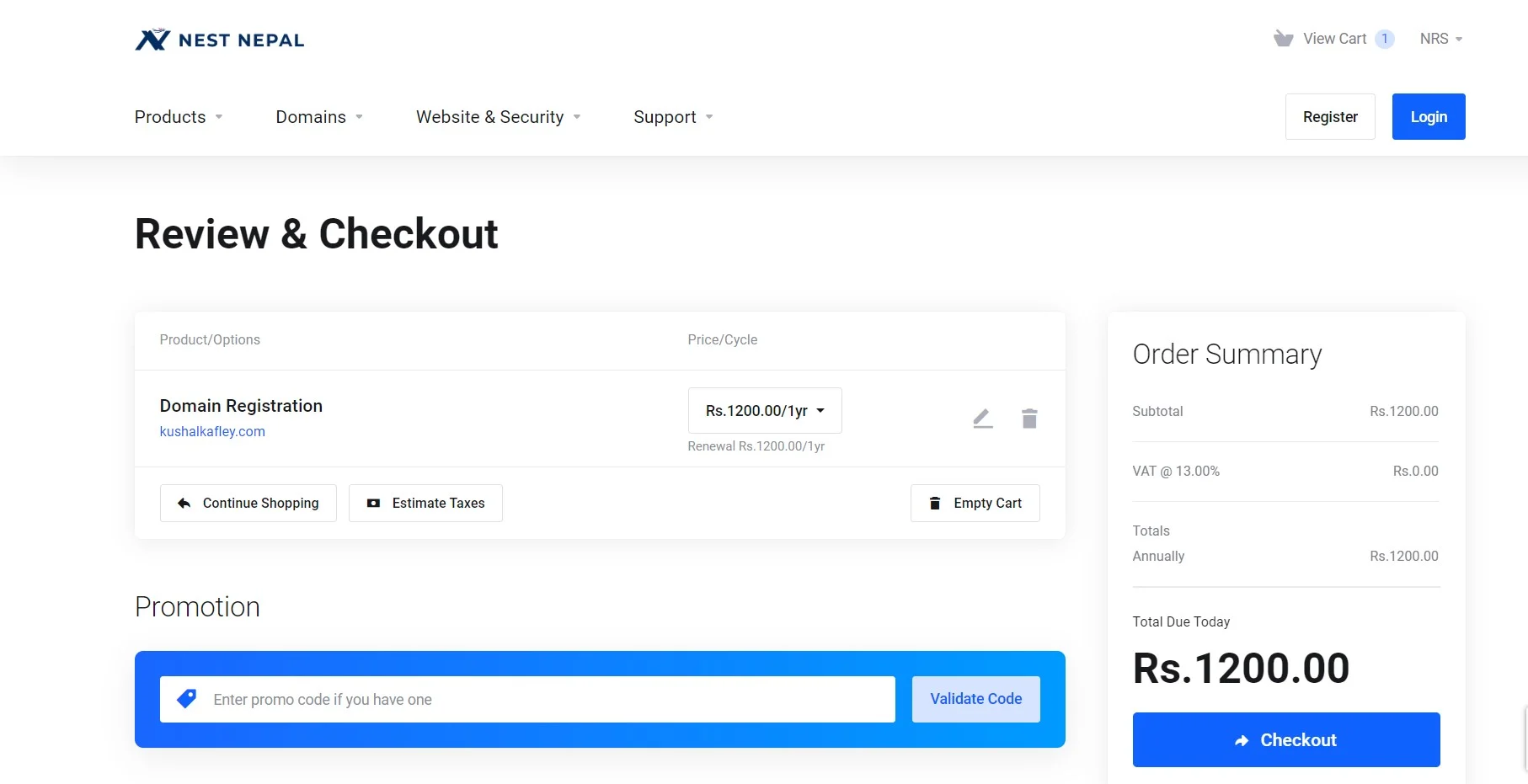 And Lastly,
Domain name registration is the first step in taking your business online. And we're more than happy to help you with that. If you need a web hosting plan, you can take it via Nest Nepal Web Hosting. We provide reliable and affordable hosting plans for businesses of all sizes. With our easy-to-use platform, you'll be able to build a website in no time at all. Hope the Process of your Domain Registration in Nepal was smooth. Ready to get started? Contact us today!
(Visited 33 times, 1 visits today)
Last modified: October 23, 2021